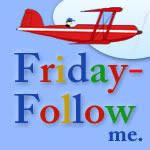 Welcome to the 10th Friday Follow hosted by our awesome hostesses,
Thank you everyone for being willing to host! Please stop by and see these awesome host/hostesses:
MAGEE BABY.
IF THE CROWN FITS
BUSTED PLUMBING
We invite you to join us every Friday to get more blog followers and to find many interesting blogs that you like. This is all about sharing and having fun.
We expect you to be on your honor and to have fun. These are only guidelines to make it more enjoyable for you. Here's how YOU can join the Friday Follow celebration.
■Link up your blog below.. One Link per blog
■Grab our Friday Follow button include on your side bar, or post.. grab the linky information if you want it
■Follow the Friday-Follow blog and the hostesses in slots 1, 2, & 3 that have volunteered today to host
■Follow the blogs you want, leave comment saying you are from Friday Follow – use common courtesy
If you need more guidelines about following see Friday-Follow.com
This list is new each week and closes on Saturday at 11:59pm EST. The links do not carry over. Please link up each week for new participants to find your blogs. It will be visible all week to visit the blogs listed.
Congratulations to our Three Friday Follow Winners!
#7 http://goodgirlgoneredneck.blogspot.com
#8 - http://ourgatorzone.blogspot.com
#9 - http://diaryofachicmommy.com
We also always extend the option of the slot
Each week we will randomly draw from three (3) blogs from the links for the next week's Friday Follow, and each blog chosen will be placed in the highly coveted number #7, #8, and #9 position on the blog hop. The first blog chosen will also be given the option of doing an interview which will post on Friday-Follow.com on Thursday the next week. We love your participation and want to give back to you! You could be next!
Today's Sponsor is Friday-Follow.com. We are offering 3 advertising spots on our site that will run for one week beginning Thursday, August 13th. Ads normally cost $10. Find out more information.
Have a product to promote? Become a sponsor
Got a meme or to promote? LIST YOUR LINKY!/ See the Linky Listing
Got a giveaway going on? List it here Advertise on our site- learn how here
Also! Join us for our new weekend comment club!
ALSO I JUST WANTED TO ADD ON MY POST THIS LITTLE BIT OF INFORMATION:
I HAVE TO ANNOUNCE A FREAKING FABULOUS GIVEAWAY I HAVE HEARD ABOUT. THIS GREAT NEW LITTLE ONLINE DESIGN SHOP IS GOING TO BE GIVING AWAY TO ONE LUCKY WINNER, A BRAND NEW BLOG MAKEOVER!!! Yes, that's right! Just in time for the Back To School Season, a new look to start off the new school year right!!
Coming very very soon, on a future Friday Follow Me, Your Chance to win a blog makeover courtesy of your's truely, or better known as
CALIFORNIA MOMMA'S CREATIVE DESIGNS
Here's just a few examples of what you could win!
Hope you see something that interests you! Have a Great Friday!!!