I found this great Meme that I wanted to link up with and share with you all!!
I'm linking up with Cass From Casa di Cass
,
for "Caption This"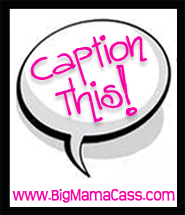 Its a great place to interact with your readers and let them have some input!!.
Basically, you post a picture and invite your readers to caption it
.
She is honoring her doggie for her birthday, and her picture is adorable.
So if you want to have some fun, link up and lets get ready to laugh!!
Ok, so here's my picture for today:
Leave your Caption in the comments
And, if you want to play along- head over to .Cass's Place
.
I can't wait to read what you have to say!!! Have a Happy Hump Day!!!
Love From A California Momma,