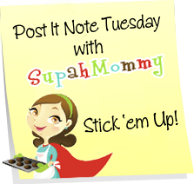 YOU HAVE GOT TO FREAKING KIDDING ME?!?
WELCOME TO MY PART OF BLOGLAND, COME AND TAKE IN THE HOT CALIFORNIA SUN AND ENJOY THE LAST BIT OF SUMMER! Now seriously, Please Take This Damn Sun and 110 degree heat from me!!! (I can't stand the butt end of summer in California,

UNBEARABLEY HOT!!)
FOR ONE OF MY FAVORITES, POST-IT-NOTE TUESDAY'S!
Just in case you're new or have been living under a rock and don't know what PINT is, well just go HERE, for all the How-to's and Don't do's!!
LOVE FROM A CALIFORNIA MOMMA,
ANGELA