First off, let me say that I am a few days behind on this post, but I only just read about it HERE, and then I had to go to the source of the information and so I went HERE.
If you haven't heard of this great blogger/momma/role model, The Mommyologist, Please go check her out HERE. She has this GREAT view of herself and of women in general, that just inspires us to see ourselves, as women, in a way better light then we would normally see ourselves. Now I am speaking for myself here, but I can almost guarantee that I am not the only Momma with self -image issues, especially after having our little babies. Our once tight, sexy bodies turned into soft, squishy momma bodies. It can make you feel really self conscious, lower your way of thinking toward yourself, and in some more severe cases, it can be the root of your problems in your marriage or relationship. Always thinking your man will find someone with a way better body, like the one we used to have and either cheat or straight out leave us. But come on ladies, what does that say about our men, if we are thinking they will leave us because of that? Pretty shallow men, right?
Anyways, on to what I see when I look into the mirror? I'm going to do a pre-embrace my body and a post-embrace my body.
1. FRIZZY DRIED HAIR THAT HAS BEEN IN THE SAME STYLE FOR AT LEAST 3 TO 4 YEARS!!!
2. MY SHORT STATURE OF 5'2 THAT ONLY EMPHASIZES THE WIDENESS OF MY HIPS AND LEGS. I LOOK LIKE A BOX!!!
3. MY STOMACH IS JUST ALWAYS THERE. YOU CAN SEE IT NO MATTER WHAT WAY I TURN OR STAND!!
4.MY EYES, HELLO, CAN YOU EVEN SEE THEM? I HAVE TO WEAR THESE GLASSES, SO IT'S LIKE WHY EVEN BOTHER WITH THE EYE SHADOW, AND LINER, WHEN I JUST HIDE THEM WITH THE GLASSES?
1.MY HAIR IS NATURALLY DARK BROWN WITH NATURAL CURLS, AND WITH A LITTLE BIT OF ATTENTION TO IT, I CAN MAKE IT LOOK LIKE I SPENT HOURS AND A LOT OF MONEY ON IT, I LOVE THAT I CAN HOLD A STYLE ALL DAY WITHOUT TOUCH UPS OR SPAYING TONS OF HAIRSPRAY ON IT!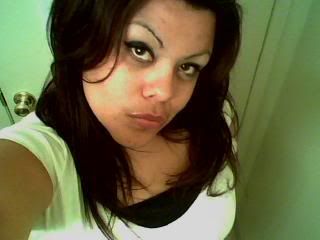 2.MY EYES, YES I DO HAVE TO WEAR GLASSES, BUT THAT DOESN'T MEAN I DON'T LOOK GOOD WITH OR WITHOUT THEM!
3 My body, as a whole, is a pretty awesome thing!! I've learned to LOVE the way I look! Who else can have all natural 38D's with a booty and legs to match!! OK, I know it sounds really funny when I say these things, but honestly, at least around here, it is either a girl has one of those "Assets" that the guys like, but usually not all three! I got all three baby!! And to be really honest, as long as my man is happy with me, it doesn't matter what other guys think is attractive.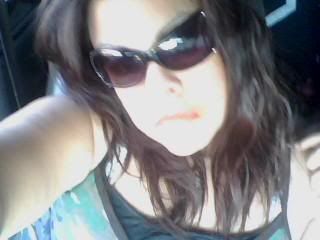 So now it's your turn!! Go to your mirror and see all those things about you that are sexy and that you love!!! It's time to put away the sweat pants and over-sized t shirts, and get out those tight jeans and cute little top. Love the way you look and you will be surprised how your and outlook on life will change!!!
Love from a California Momma,
Angela H.