THURSDAY'S THANK YOU VERY MUCH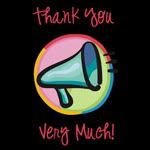 i LOVE THIS LINK I FOUND FROM MOTHER OF PERAL IT IS AND I THINK TODAY IS THE PERFECT DAY FOR IT.
ANYONE NEED SOME THERAPY TODAY? DOES SOMEONE OR SOMETHING GOT YOU SO PISSED OFF YOU COULD LITERALLY SCREAM?? WELL HERE IS YOUR CHANCE TO SAY WHATEVER YOU WANT AND THANK THEM FOR WHATEVER IT IS THEY OR IT HAS DONE TO YOU!!!
LETS GET STARTED....
1)
THANK YOU VERY MUCH TO THE DUMB BEE THAT STUNG MY DOGGY, SILLY AND ALMOST KILLED HER!! WHO KNEW THAT DOGS COULD BE FATALLY ALLERGIC TO BEES, LIKE HUMANS?? WELL THIS DUMB BEE NOT ONLY ALMOST KILLED MY DOG, BUT COST ME $155 TO GET HER BETTER!!!
2) THANK YOU VERY MUCH TO THE STRAWBERRY CHEESECAKE THAT JUST HAD TO BE IN THE AILSE I WALKED DOWN AT THE GROCERY TODAY...NOW I HAVE TO DO LIKE A HUNDRED SITUPS AND WALK TEN MILES TO GET RID OF YOU!!!
3) THANK YOU VERY MUCH MR. CABLE MAN FOR NEVER BEING ON TIME WHEN I HAVE AN APPOINTMENT!! WHAT IS THE PURPOSE OF GIVING AN APPOINTMENT TIME WHEN YOU ARE JUST GOING TO COME WHENEVER YOU FEEL LIKE IT!!!
THERE YOU GO PEOPLE...HAVE FUN AND LET IT OFF YOUR CHEST!!
THANK YOU VERY MUCH!!